Identify the Most Important Attributes You Need in an Employee Advocacy Solution

You have plenty of options to choose from when it comes to using a tool to distribute your content on social media. But not all platforms are created equal. As an enterprise organization, you need a platform focused on employee advocacy that will help you: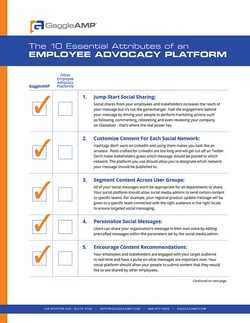 Improve your top of the funnel results
Increase employee and stakeholder participation
Amplify the reach of your message
Download The 10 Attributes of an Employee Advocacy Platform Checklist so you can compare the features and benefits of your current social platform and reveal the missing elements you need to take your social media ROI to the next level.
Complete the form on this page to get started!