Start involving employees in your social media strategy!
98% of employees use at least one social media site for personal use, of which 50% are already posting about their company. Employees are an untapped resource that need to be part of your strategy. It's also important to understand that employees need to be involved in the process of developing a plan to include them in the marketing mix.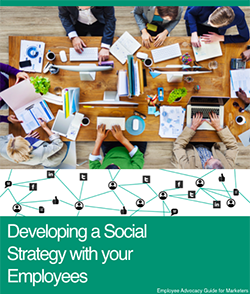 Simply pushing out messages to employees isn't enough. You need to get creative and engage them in your program. Front line employees know your customers and audience best. Why not leverage their expertise in your social strategy?
Download Developing a Social Strategy with Your Employees eBook to:
Learn how to get executive level buy-in and convince the key players in your organization the need for employee advocacy
Get tips to ensure a successful program and engage employees in the long run
See how employees can be involved in the creation, execution and ongoing support of your social strategy
Simply fill out the form on this page to get started!