Your guide to business goal setting, social media action, and result tracking
In a world where nearly three-fourths of the western world are engaged in social media of some type, it makes the most sense to utilize social media for marketing endeavors. As you sit down to plan how to harness the power of Social media for your business enhancement, remember to include these three elements within the process framework: goals, action, and tracking.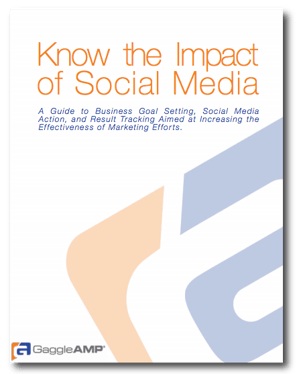 To ascertain the success of your social media action, you need to address tracking social media activity at four levels: awareness, engagement, conversion, and advocacy. What you specifically track will depend greatly on the goals you set prior to developing your plan.
Download Know the Impact of Social Media eBook to:
Find metrics that provide you with the data that works for you and your company and review them periodically to make sure they continue to meet your needs

Align your social strategy to not only match the goals you have set for your company and the campaign, but also match your company's values, mission, and needs

Learn why many social media campaigns struggle to achieve success without goals, action, and tracking
Simply fill out the form on this page to get started!