Tranform yourself into a content creation master!
Creating enough quality and relevant content to drive up both reputation and sales through social media advocacy is a seemingly never-ending climb, one worth every step.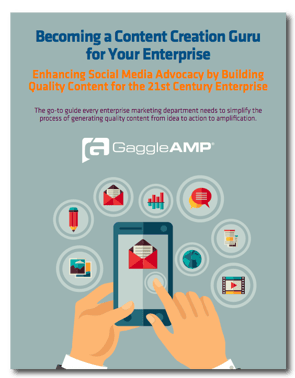 For enterprise marketers especially this becomes a key issue to address due to limited bandwidth availability in
a content saturated business landscape. It is through this focus that brand recognition can benefit, so long as brand worthy content is shared.
Content for the sake of content does not meet the needs of your consumer. Ensuring a clear purpose that is in line with your company's mission and values becomes the first step to setting the stage as a content creation guru.
Download Becoming a Content Generation Guru for Your Enterprise eBook to:
Learn how to enlist the help of employees outside the marketing department to develop content
Understand the key aspects of quality content
Discover different avenues and formats for content creation
Simply fill out the form on this page to get started!